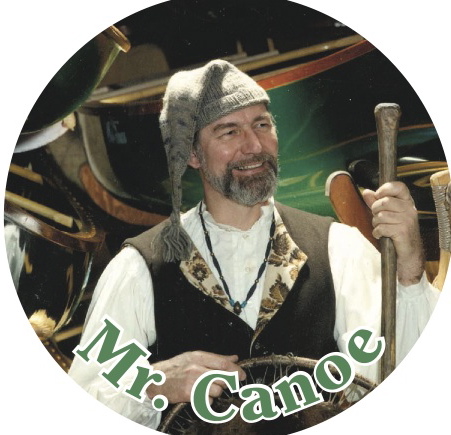 Ralph Frese Memorial Paddle to take Place April 14th
Postponed from  new years day, The memorial paddle will begin at 10;00 am with a short ceremony, prceding a paddle on the Ralph Frese Water Trail on  the North Branch.  An Empty Canoe ceremony will be conducted in which one of Ralph's boats will make his symbolic last paddle as it is towed by Voyageurs on Ralph's favorite canoe trail.    All participants will receive a commmemorative Mr Canoe button.  For more information Click here
.
Spring 2013
Canoe and Kayak Checklist

One of the many Chicago area traditions is paddling The Ralph Frese Water Trail year round. Even during those months where the air temp is 60 deg. or above, there are always some risks involved. This trip is not advised for new paddlers, or persons who have not paddled in this type of current. The combination of cold spring air and high fast water can make this reach dangerous if you should capsize. We ask you to carefully consider the following questions. If you are unable to answer yes to all of them, you should not paddle, because you are risking serious consequences, including drowning, and hypothermia.
1. I am wearing adequate clothing that will remain warm, even if it gets wet. (ie: enough layers (best to begin with a wet suit) of synthetic fleece, wool, or wicking layers to maintain body heat with a breathable outer water proof layer such as a drysuit, paddling jacket and pants, full rain suit, etc. and insulated boots, gloves and hat. Note that clothing made of cotton, including sweat clothes and flannel, are unacceptable and could kill you.)
Yes No
2. I have a complete change of wool and/or synthetic clothing in a bag made of waterproof material that will not leak if wet. (i.e. professionally made dry bag or knotted heavy garbage bags.)
Yes No
3. I have a properly fitted, US Coast Guard approved, life jacket and will wear it for the entire trip.
Yes No.
4. I have paddled at least five miles on a river with current, at least twice before.
Yes No.
5. In swiftly moving water I can steer my craft away from brush, low-hanging branches, bridge pilings, and floating logs. I am able to recognize other hazards and avoid them
Yes No.
6. In the event of my boat flipping over, I understand that I may have to swim until I am rescued, or reach shore without assistance, while immersed in cold water.
Yes No
7. I will forgo the recreational use of drugs and alcoholic beverages before and
during the event.
Yes No.
---

A TREMENDOUS TOOL !
A NEW WEBSITE  FOR LOVERS OF THE ROCK RIVER
We believe this site <
www.rockrivertrail.com
> contains the most complete information ever compiled on any river in the Midwest.  Our compliments to Greg Farnham and Frank Schier of the Rock river Trail Initiative.
As of now, you can go to  the site and download the full "Rock River  Water Trail Plan" booklet  which  contains  complete maps, an inventory of access sites along the river with complete  information about what ammenities they  provide,  plus there are  GPS Coordinates for each site,and a narrative description of each of the segments.
  At the present time, in order to obtain  the information concerning  the eleven water trail sections in the plan, you must download the complete plan, but shortly you will be able to obtain  the individual  segments (Samples seen on the left.).
Having this information will allow planning, campsites, lunch stops, etc. using exact mileage, complete information as to what amenities are availble, and what the section is like to paddle.
http://www.rockrivertrail.com